Finally getting around to writing some new posts and updates of what is happening in my life.  Its Memorial Day weekend, 2010 and I am quite busy with projects.
Getting ready for Shlomo to leave for CERN and Geneva on the 8th of June, I have started to pack up the kitchen and pantry as I will start demolition on the 9th.  Working on another three quilts and just finished cleaning out my closet and drawers, discarding some of the things I never use and never throw away (packrats of the universe unite!)
My friend Judy in New Orleans always asks me to write Hallmark verse for events that she gives a card for – this last week it was for a couple getting married – so I wrote this:
You're getting married to one another
So be best friends as well as lovers
Be loyal, kind, respectful, sweet
Make sure you give each other treats
To little matters pay you heed
For when you do, you show that needs
Are heard and answered, feelings met
And you will find thats how you get
The things you want by giving freely
Of your heart, which matters, REALLY!
Communicate your needs and wants
Take walks and make some fav'rite haunts
Eat meals together, share your day
Take time to get a chance to play
Before your coffee, after work
Take 30 minutes – do not irk
The bedrooms sacred, make it so
Music yes, but TV no
When quarreling find another spot
So with those tensions its not fraught
Be to each other first and most
And then on Facebook you can post
I dreamed a dream that we made real
Our life together is ideal
Evidently it was well received – meaning I will be called upon again. She wanted to set me up with a service – I asked "How much does it pay?" and the conversation came to an end.
Sara finished up her first year in England with high marks, and is back for the summer. She looks absolutely terrific!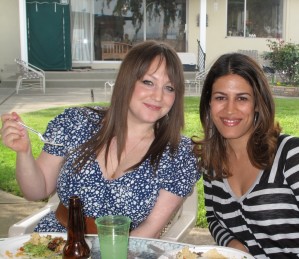 She is busy and happy and pursuing her passions.  I am very proud of her.
Daniel continues being extremely busy with his work and all his other activities.  He and Marlena have done a fair amount of traveling since they have been living in Evanston, and I am glad to see that he is busy with social activities as much as he is, as well as work and all the other pursuits.   He is coming to visit next weekend and I will take some new pictures to post.  We spent Mother's Day together in Los Angeles and although I meant to take some pictures, it never happened.
Speaking of which, it was probably one of the nicest Mother's Days I ever had.  I am so grateful to have been blessed with such wonderful children and friends.
Signing off for now…