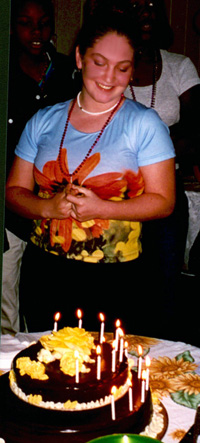 8-30-98
Dear Family and Friends
Well, here we are – 11:30 am on Sunday. I have slept a total of ten hours in the past three days. I am a little tired, but only on the very surface. The rest of me is considering inviting an additional twenty or so over tonite for dinner to work a little harder on all the leftovers. I have about twelve coming as it is, but after all – I still have extra tables and chairs outside that I could set up in a jiffy. Hmmmm… and the food is ready to serve, no trouble at all. Maybe I'll make just a FEW calls a little later.
The jazz combo had such a great time playing here last night they asked if they could come over this morning and jam (and of course have leftovers) so they are downstairs playing. Daniel is enjoying himself joining in, so I am sitting in my office, listening to the wonderful sounds drifting up from the living room. Do you know how much I love to hear and feel the music under my feet (the floor vibrates when they play and the drummer is super – both pianos are going, and the bass player is rockin')???. This is heaven!
I told them they could come and play as long as they promised to eat! I think we had enough food for 150 or so, although I did have a full complement of at least a hundred. So as promised, I will tell you how the party went – blow by bloody blow.
I think it was the most successful party I have ever thrown. The only sour note was that Shlomo wasn't here to enjoy it. I know he would have enjoyed himself full throttle. Saturday was an easy day, as almost everything was done. I popped into Costco first thing to pick up yet another pork loin (I didn't want to run out of food), the bread and a couple more "last minutes" before stopping at the airport to pick up my cousins and bring them over to the house.
By 4:30, everyone was ready, the food was ready, the yard was cleaned and all set up – our party theme was Mardi Gras – and the tables were decorated with beads, glitter, candles and chocolate doubloons. The guests began to arrive, and everyone migrated out to the yard, where we had been granted an absolutely perfect day. It was in the mid 70's and picture perfect. By six a good portion of the guests had arrived, and so did the Mariachi's. When they began to sing, revelers came to sit at the tables and listen. In the kitchen the food was ready and we put it out.
Our friends David and Sally Hardy made an exquisite and unbelievably delicious chocolate decadence tier cake – chocolate, chocolate, more chocolate, decorated with yellow roses. A keg of dos equis beer (which was the deciding factor in Daniel's decision to invite his friends) was surrounded by the college-bound group, and they started in to fill their plates and eat. I went around and made sure everyone was wearing their Mardi Gras beads so they would be in party mode.
Guests continued to arrive to partake of the day, the music, the food and the company. The tarot card reader gave Sara her Birthday Reading. I realized that the sprinklers were about to start up on their automatic setting about four minutes before they actually did (Ohmigod!) and shut them off, thereby narrowly averting a rather party dampening experience. At 8 we sang Happy Birthday and cut the cake. Wow! Was that ever delicious. The Mariachis left and the Jazz band set up in the living room while the Tarot reader relocated to my office.
The later arrivals stayed in the yard, eating and talking, and the groups began to form. My office was filled with those awaiting their fortunes, the kids divided into groups, some in Sara's room, some in Daniels room, some in the Dining Room, and another group up and down the stairs. The smaller kids were in the den playing Nintendo, the "can't do nothing but yak" ers were at the kitchen table, the jazz devotees were in the living room and the "talk and listen group" were in the nook. Everyone was engaged and everyone looked happy. I walked around and was pleased and more pleased to see that no one was sitting alone or in a corner, and that every group was actively engaged with its other members.
It appears that Sara had a ball. The age range of the group was from 2 to about 80 – and everyone migrated into their appropriate group to partake of whatever it was that pleased them. Nobody even noticed the stupid sugar cubes, I think, but I know that even my mother was happy. The last guests drifted out by 1:30. The tables and chairs are folded up and ready for pickup tomorrow. The trash is bagged and stacked. The kitchen is clean and the dishes are washed and put away. The extra platters I borrowed are ready to be returned. The house is back in order. We met Vicki, Glenn, Ari and Jaimie for breakfast (where we finally located Daniel and his pal Dan) at 9:30 this morning, before they left to return to "The Valley".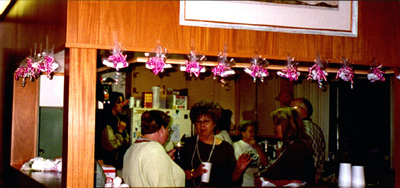 Now all that's missing is to pick up Lucky – he is visiting at the puppy motel. I cannot end this letter without an enormous THANK YOU to Judy, my friend from New Orleans. Without her tireless assistance, I would never have been able to pull this one off. Not to mention the fact that the Mardi Gras theme, without the crawfish ettouffee and red beans and rice would not have had the same wonderful feel (not to mention the taste – YUM!). THANK YOU JUDY!!!!
To end with, a warning: there will soon be another driver on the road who is related to me. SO WATCH OUT!!!!, if you know what I mean.
Love,
Susan